(This is actually an entry from last month that I never finished…sigh…my aspirations for my blogging far exceed my time available for blogging…)
Some of my gal pals decided that it would be fun to do a Mommy & me roadtrip… Moms and kids… no papas. Hey – I can pretty much be talked into anything when it comes to travel so I was in. I packed up my two and headed up the road  where we picked up my friend Joyce and her 2 year old, Olivia, and the 5 of us set off to Omaha for two days.
Once there, we met up with Becky, and her 2 preschoolers… and Margy and her 2 preschoolers… Yep – we are talking 7 kiddos – ALL under the age of 4 - traveling and staying in a hotel together. The moms must be crazy.
After a few hours at the hotel, we knew we were in for a loooooong night. As we discussed dinner plans… Margy declares this trip essentially a suicide mission and that we might as well go out in style with dinner at Chuck E Cheese. If there was any doubt before, now it's certain… the moms must be crazy.
So off to CEC we went - 7 preschoolers and their moms in tow. When we got there I felt better knowing that they had a security system in place that only allowed the adult with the same handstamp as the child to leave the building – so although our kids would be completely and totally overstimulated and loaded with junk to eat, at least they were safe and wouldn't be leaving with some stranger.
We had a great time eating high quality pizza, drinking healthy drinks sodas and watching the riveting show t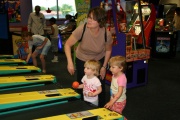 hen off to the arcade we went. Where was that leash when I needed it? I think I lost one of the girls about every five minute. That place is CRAZY! But I felt secure knowing that even if I lost sight of them, they couldn't leave the building – they had to be somewhere inside (including the mice maze on the ceiling – I tried to keep an eye on the entrance to that thing at all times – I had visions of climbing through a tube on the ceiling to retrieve a scared little girl – and given my own fear of heights AND small spaces…these visions were not pretty).
After we had had enough – and conviced the kids of the same, we gathered all of our kiddos and headed for the door – prepared to show proof that the children we were taking out of the building and into the parking lot were indeed our own. And what were we greeted with? An open gate leading to a wide open door leading to the parking lot and not a security guard in sight. Nice. So much for that sense of security.
We got back to our hotel, got all the kiddos settled into bed, put on a pot of coffee and sat around talking until the wee hours of the morning about ten before we all declared the day over and went to bed. Afterall, tomorrow we had a fun filled day at the zoo planned and Lord knows we needed our energy to keep up with our crew.
 
We arrived at the Omaha Zoo just as it was opening – and just in time for a classic midwest
summer shower. Thankfully this zoo has some amazing indoor exhibits so we hung out there until the rain stopped a few hours later. After meeting up with some other friends for lunch, we rushed through as much of the zoo as our little ones could handle before strapping everyone in their carseats for the ride home.
 
Ok, so it wasn't really that crazy…it was actually quite fun! I hear St Louis has a great zoo…and I just bet we could find another Chuck E Cheese too – anyone game??