A few weeks ago we took off to explore a new part of the island (well, new to us – I'm sure it's not actually "new"). We went through Ponce and stopped for lunch – at Chili's. I know, it's not that unique…but it's reliable, offers food that isn't fried and has clean bathrooms – three things that make me a happy camper.
After lunch we headed West to the town of Guanica on the Southern coast of the island. We had heard about this "dry forest" there but really had no idea what to expect. Unlike visiting El Yunque, one had ever mentioned to us "Oh – you just HAVE to go to the dry forest" so we didn't have very high expectations. On the way to one of the entrances, we came upon a resort that looked pretty cool. We stopped to get some information. Turns out, it's the only all-inclusive resort on the island and seemed very much our style – nice but casual and low key. We made a mental note to put Copamarina on our PR Bucket List.
Continuing on down the road, we were treated to some amazing views of the Caribbean on one side and then this rough, scraggly, dry and arid land on the other – it really is amazing to see such diversity on one island. There is also a small island just off the coast – Gilligan's Island – that you can take a ferry or boat charter to. There are no facilities on the island but it looked like a great place to spend the day.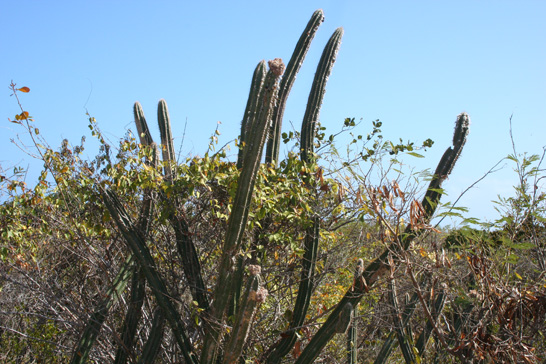 We hiked along the coast for a while and then came back to the beach to play there. The current was pretty strong here so we stayed out of the water – and made our own "dry forest" in the sand.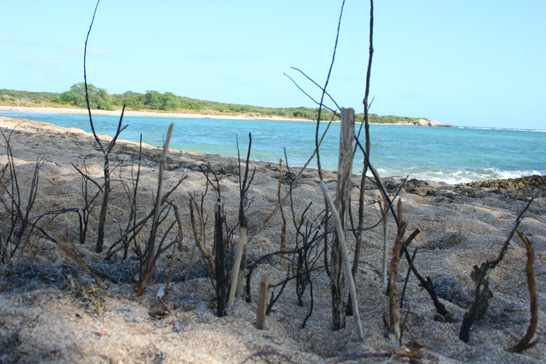 I'm not sure why this area isn't promoted more than it is. We'll now definitely tell people, "You have to go to the dry forest!"